Afternoon Tea At The Savoy
06 Feb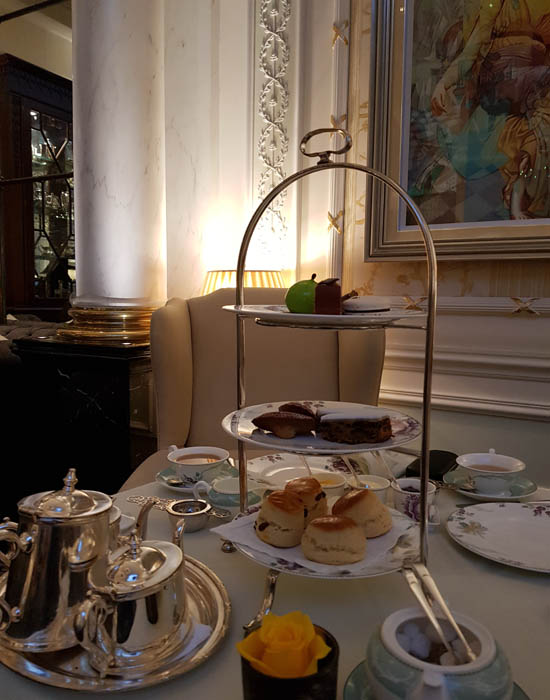 Situated on the River Thames this five-star luxury hotel offers a beautiful mixture of Edwardian meets Art Deco. Award-winning culinary experiences and more.
Afternoon tea is served in the Thames Foyer Restaurant where a magnificent winter garden gazebo takes centre stage from which a pianist serenades guests.
Traditional Afternoon Tea Menu
Spring mushroom tartlet, caramelized golden cross goat cheese, micro salad.
A selection of traditional finger sandwiches:
Scottish smoked salmon, lemongrass and star anise butter, watercress Norfolk crunch bread.
Coronation chicken, olive bread.
Classic egg winter black truffle, white bread.
Sliced cucumber, cream cheese mint, caraway seed bread.
Roast beef, whole grain mustard, horseradish cream, rocket.
Champagne cooked English brown shrimps, cocktail sauce, crunchy butter lettuce, brown bread.
Plain and raisin scones. Cornish clotted cream, homemade orange curd, strawberry jam.
A selection of delicious afternoon tea pastries. Mont Blanc, tartlet apple delicious roulade. Mandarin chocolate macaroon.
Fruit cake, spiced madeleine.
A good selection of loose teas and coffee.
Afternoon tea price = £65
With a glass of Louis Roederer Brut Premier, Nv. £75
Opinion
The spring mushroom tartlet scored 10/10
A delicious addition to the finger sandwich plate.
My personal favourite coronation chicken with olive bread.
The scones...orange curd and Cornish clotted cream tasted heavenly.
Ultimate luxury and impeccable service. One of the best afternoon teas in London.