Cypriot Traditional Meatball Recipe
24 Jun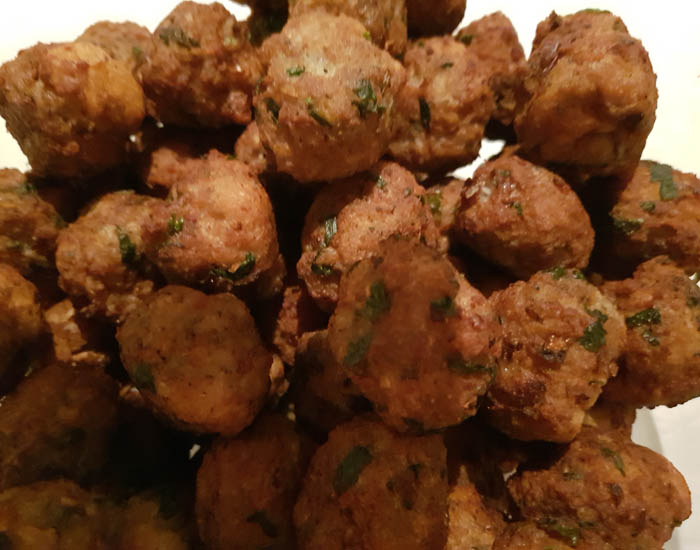 This is an old-time favourite everyone loves meatballs watch them disappear as you get them out the pan. This recipe feeds 6-8.
Ingredients:
Pork Mince - 1kilo
Potatoes - 1328g finely grated
Onions - 400g finely chopped
2 Large Eggs
Fresh Flat Parsely 113g finely chopped
Bread Crumbs 180g
Ground Cinamon 5g
Dried Mint 3g
Salt & Pepper
Cooking Oil to fry the meatballs
Method:
In a large bowl add the pork mince, grated potatoes, dried mint, ground cinnamon, salt and pepper, chopped parsley and chopped onion. Mix together using your hands until all the ingredients are well mixed and blended together. Add the eggs and mix, finally, add the breadcrumbs and mix, cover the bowl with cling film, foil or a towel for 30 mins.
The meatball mixture should be firm, not runny if runny add a few more breadcrumbs to the mixture and let it rest for a further 15 mins.
Heat cooking oil in a non-stick frying pan with enough oil to cover the round meatballs. Add a little bread into the oil when oil bubbles add the meatballs. Keep the oil to medium heat if the oil is not bubbling put heat up, if the heat is too low the meatballs will absorb oil.
Take a teaspoon of the meatball mixture and make into a ball.
Carefully place into the hot oil, starting at the outer side of the pan working your way to the centre of the pan. Repeat till the pan is full. Turn them when they start turning golden. Remove them from the pan and place them in a bowl lined with a kitchen towel and shake them to remove the residue of the oil.
They taste great hot or cold. Serve with crusty bread and a crispy salad.