Traditional Cyprus Flaounes Recipe
07 Mar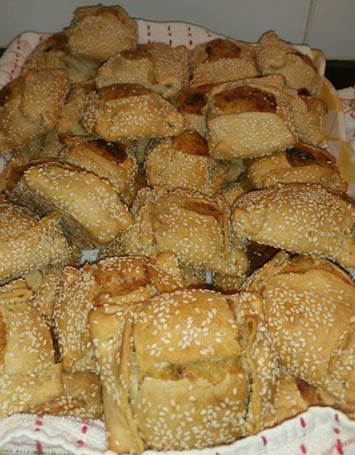 Pastry parcels filled with spice and herb cheese.
This recipe is for 20-30 Flaouna Parcels.
Cheese Filling Ingredients.
1 Kg Greek Cheese grated.
1 Kg Haloumi grated
18 Large Eggs
500g Semolina (fine )
3-4 balls ground Mehlebi
6-9 drops ground Mastiha Xiou
3 level teaspoon ground Cinnamon
2 level teaspoon ground Clove
1 bunch Fresh Mint chopped
1 small pack dried yeast/ 2 soupspoons dried yeast
500grams Sultanas washed
Method:
Add cheese, salt, mehlebi, mastiha xiou, cinnamon, cloves and mint to a large bowl.
Break eggs in a small bowl and add to the cheese, blend together.
Add a little warm water to the yeast and stir till a smooth paste, blended with the cheese.
Slowly add the semolina.
Add sultanas. Cover with a T towel for 8 hours or till double in size.
Simmer Sesame Seeds for 15 minutes and drain in a sieve till dry.
Pastry Ingredients:
1 Kg Self Raising Flour
200ml Cooking Oil
1 level teaspoon salt
2 balls ground mehlebi
6 drops ground Mastiha Xiou
1 level teaspoon ground cinnamon
1 level teaspoon ground clove
Method:
Add flour, salt, mehlebi, mastiha xiou, cinnamon and clove in a large bowl.
Add cooking oil and mix together. Use your fingertips to rub in the oil.
Slowly add water using a knife, stir a little at a time to bind the dough together. Use hands to form the dough. Cover the bowl with a T towel and allow to rest for one hour.
Preheat your oven to 180.
Flour the worktop, take a piece of dough and roll to a 14cm diameter 3-4mm thick, place the pastry on top of the sesame seeds and gently press down. Place the pastry on the floured worktop, sesame seeds on the flour side and roll over with a rolling pin...this will press the seeds onto the pastry.
Add a large tablespoon of cheese mixture to the centre. Take one side of the pastry and fold towards the mixture, leaving a cheese window,
repeat on the other side. The remaining two ends fold over as if wrapping a package and press down to seal.
Place parcel on a greased baking tray, repeat till the tray is full leave a good gap between each parcel.
Bake till golden honey.