Alice In Wonderland Afternoon Tea
09 Apr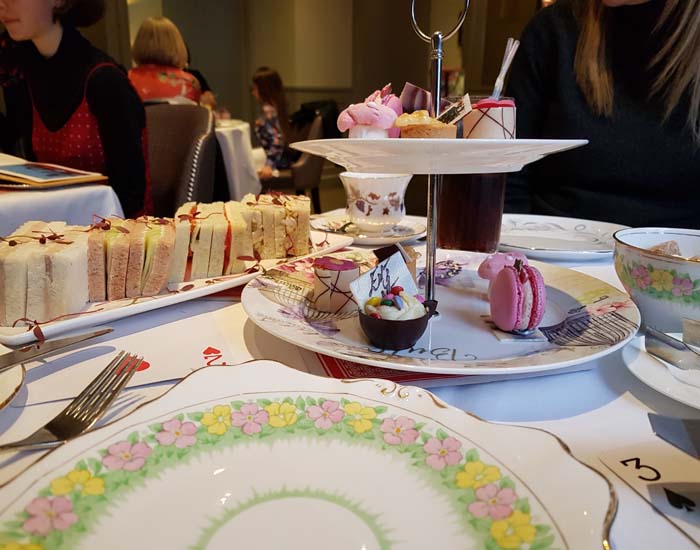 Lewis Carroll's Alice In Wonderland come's to life in a themed afternoon tea at the Taj, St James Court. 51 Buckingham Gate.
A few minutes walk from Buckingham Palace and the Houses Of Parliament.
Afternoon tea is served in the elegant Kona dining room.
The fabulous mad hatter's hat sits nicely on the window sill accompanied by a silver teapot set.
The tables all beautifully decorated with long stem silk pink roses, large playing cards and strands of pearls draped over the sugar bowl and the
potted peony.
Menu
Finger Sandwiches:
Alice - English Cucumber And Cream Cheese On Beetroot Bread
Bird In A Tree - Chicken And Sultana On Carrot Bread
Lory - Cornish Yarg And Tomato With Red Currant Jelly
Drink Me - Strawberry Potion
Cakes And Pastries:
Pocket Watch - Bubble Gum Macaroon
Caterpillar's - Mushroom Rasberry Marshmellow
Queen Of Heart's - Mango Tart
Dodo's - Watermelon Jelly
Tea Cup - White Chocolate Mousse
Scones
Queen's Recipe Drop Scones:
Plain Chocolate Chip
Golden Sultana
Cornish Clotted Cream And Strawberry Preserve
Alice In Wonderland Tea per person £40.00
A glass of Prosecco £5.00
Opinion
The sandwiches, cakes and scones scored 10/10
Freshly made to suit all age groups.
My personal favourite Tuna Mayonnaise On White Bread.
The Strawberry Flavour Potion is a great touch.
I found the yoghurt drink refreshing a nice break before the cakes and pastries.
A good selection of loose teas and coffees.
Definitely an exceptional afternoon tea with impeccable service.