Exceptional Afternoon Tea Royal Lancaster London
03 Sep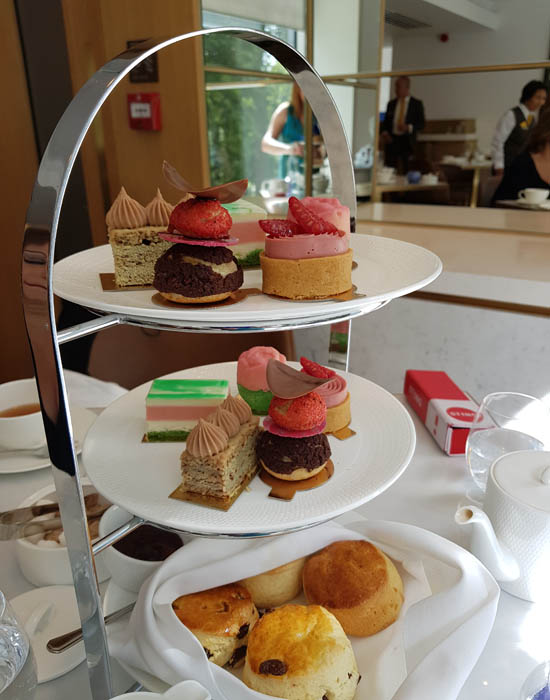 Royal Lancaster London, Lancaster Terrace, Bayswater, London W2 2TY.
A stone's throw from Hyde Park this five-star contemporary chic luxury hotel offers award-winning culinary experiences and more...
Afternoon tea is served from 13.00 - 16.30 in the Park Restaurant with spectacular floor to ceiling views of Hyde Park.
Luigi our tea sommelier made the whole afternoon tea experience memorable, I thoroughly enjoyed the different teas he recommended to enhance the flavour of our sandwiches, scones and sweets.
Menu: Summer Afternoon Tea
1st Three Tier Stand
Amuse Bouche
Watermelon Gazpacho Shot
Savoury
Parmesan biscuit, pea
Chorizo cinnamon
Sandwiches
Roast sirloin, horseradish
Smoked salmon, chives, creme fraiche
Smoked egg mayonnaise, truffle
Kale, avocado, quinoa
2nd Three Tier Stand
Scones
Selection of plain and sultana
Served with homemade strawberry jam and Jersey clotted cream
Sweet
A selection of sweet bites.
Banana, passion fruit and lime opera cake
Raspberry and champagne tart
Rosewater mousse, lemon jam bitter and lime
Financier lemon verbena cremeux
Peach jelly and pistachio sponge
Gianduja and strawberry religieuse
Price: £39.00 Afternoon Tea
£45.00 With a glass of Brut Champagne
£49.00 With a glass of Rose Champagne.
Opinion
My Favourites
Savouries, Sandwiches and sweets scored 10/10
The watermelon gazpacho shot...light refreshing drink, a nice addition to the tea tier.
Roast sirloin, horseradish sandwich...a nice lean tender sirloin, with a good spread of horseradish one finger sandwich was not enough...lol
Smoked salmon, creme fraiche and chives sandwich... a gentle smoke melt in your mouth salmon...mmm delicious!
Scones... beautifully light and fluffy.
The peach jelly and pistachio sponge... a scrumptious addition to this mouthwatering selection!
All beautifully presented in a three-tier stand. One for the savouries and sandwiches and another for the cakes and scones.
A nice touch... the scones come to the table hot and ready to eat.
Definitely an exceptional afternoon tea with impeccable service.