Exceptional Afternoon Tea
25 Sep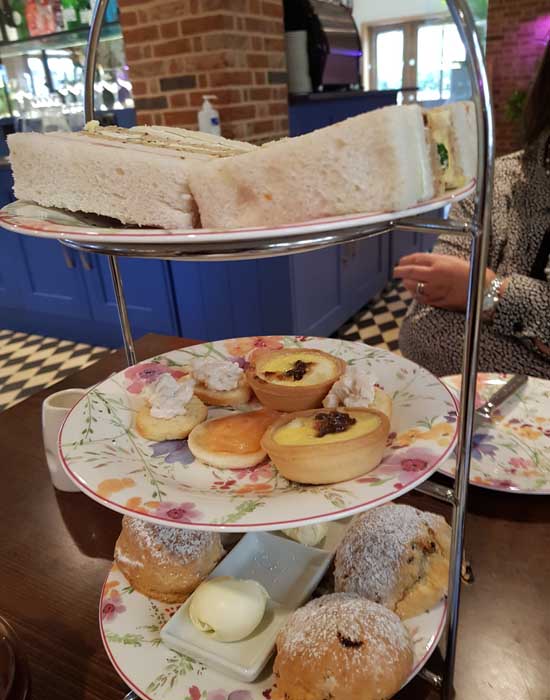 Tewin Bury Farm, Hertford Road, Welwyn, AL6 0JB.
Set in 700 acres of beautiful Hertfordshire countryside Tewin Bury Farm Hotel sits comfortably within a tranquil setting.
A unique four-star hotel a former dairy farm that changed direction in 1980.
The land continues to be farmed and many of the original buildings have been incorporated into the hotel.
Traditional afternoon tea is served in the Cowshed Bar And Restaurant.
Afternoon tea is available from 12 noon till 5 pm every Wednesday to Sunday.
Price; £25.00 per person
Add a glass of Prosecco - £5.00
Add a glass of Champagne - £8.00
Menu: Sandwiches
Cucumber & Cream Cheese
Egg Mayonnaise & Watercress
Honey Roast Ham & Wholegrain Mustard
Savouries
Smoked Salmon & Creme Fraiche Blini
Goats Cheese & Red Onion Chutney Quiche
Chicken & Mungo Crostini
Scones
Homemade Farmhouse Scones
Plain Fruit, Tiptree Strawberry Preserve,
Clotted Cream
Mini Desserts
Macaroon
Lemon Meringue Pie
Chocolate & Hazelnut Gateau
Strawberry & Vanilla Tart
Opinion: The Tea Scored 10/10 a fabulous selection of fresh sandwiches, savouries, scones and desserts.
Sandwiches
Cucumber & Cream Cheese - A delicious refreshing sandwich on fresh white bread.
Egg Mayonnaise & Watercress - A mouthwatering light egg mayonnaise on fresh granary bread.
Honey Roast Ham & Wholegrain Mustard - A delicious ham the whole grain mustard gives this sandwich a nice kick.
Savouries
Excellent addition to the afternoon tea...
The smoked salmon was amazing paired with the creme fraiche ...heaven!
A melt in your mouth quiche, goats cheese with a red onion chutney ...yummy!
Scones
Light and airy freshly baked scones ...delicious!
Mini Desserts
Fresh baked soft and chewy mango and chocolate macaroons are definitely how a macaroon should taste.
my favourite dessert is the tangy creamy lemon meringue pie...scrumptious!
Chocolate & hazelnut gateau ...rich chocolate gateau on the sweet side.
A heavenly strawberry & vanilla tart ...a definite winner!
The Cowshed Restaurant is definitely worth a visit.