Exceptional Afternoon Tea The Carlton Tower Jumeirah
01 Sep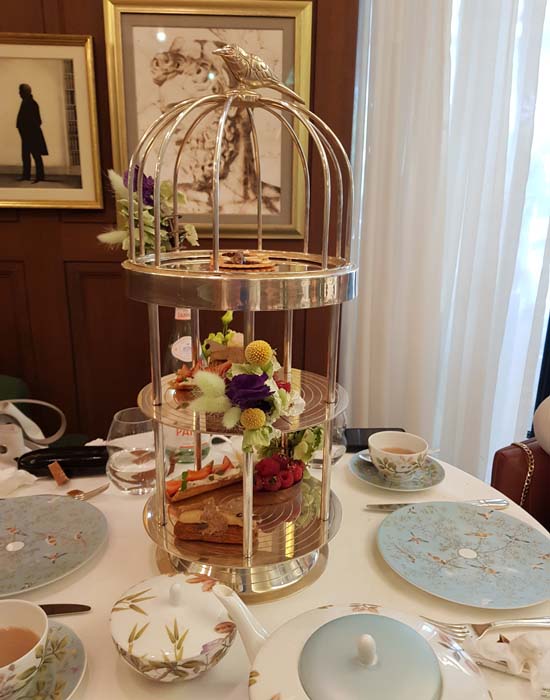 Posted By
0 Comment(s)
133 View(s)
The Carlton Tower Jumeirah, 1 Cadogan Place, London SW1X9PY.
This five-star hotel is situated in the heart of Knightsbridge next to Sloane Street and offers an award-winning culinary experience.
The tea rooms are delightful, wood-panelled with comfortable green sofas and leather armchairs. A tribute to nature inspired by the flora of British gardens.
Afternoon tea creations are by the head chef Jessica Prealpato noted for being one of the world's best pastry chefs in 2019 and pastry chef of the year by Gault Et Milau in 2020.
Jessica has created an exciting selection of sandwiches, scones and pastries.
Classic Afternoon Tea - £75 per person.
Champagne Afternoon Tea:
Ruinart Brut - £90
Ruinat Rose - £93
Dom Perignon - £140
Afternoon Tea Menu:
Sandwiches Selection.
Savoury truffle croissant filled with duck egg and black truffle.
Savoury tartlet, cream cheese, cucumber & burnt lemon jelly.
Tomato tarte aux fine.
Lobster roll, creme fraiche, apple celery & chilli.
Muciao sorbet with fermented cocoa beans.
A Selection Of Mini Scones.
Plain scones with clotted cream.
Ceylon cinnamon scones with banana & lime.
Columbian coffee scones with coffee cremieux.
Dried hibiscus flower with raspberry & tarragon
Patisseries
Cherry & black olive lunette - A cherry jam in a treasure of sweet pastry topped with black olives.
Strawberry tarte fine and creme fraiche - Puff pastry, strawberry jam, lemon & almond cream, creme fraiche, fresh strawberries candied ginger.
Raspberry tart with anise seed & watercress - Anise sweet pastry, anise & almond cream, raspberry jam, watercress pesto, caramelized fennel seeds, fresh raspberry.
Cereals eclair - cereals choux pastry cereal & almond praline, cereals pastry cream, buckwheat tuille.
Opinion
Sandwiches scored 10/10
I cannot pick a favourite as all were mouthwatering delights.
The Muciao Sorbet is an excellent addition to this afternoon tea served after the sandwiches to cleanse the palate.
A delicious coconut sorbet with a light dusting of cocoa served in a coconut half-shaped dish.
Scones
A fabulous scone experience! A selection of mouth-size scones with matching preserves.
Patissiries Scored 10/10
A wonderful selection of delicious patisseries that are low in calories...definitely a winning combination.
A mouth-watering experience from start to finish. Excellent service and one of the best afternoon teas in London.