5 sexy women's clothing items to see you and your sweetheart through the winter
24 Nov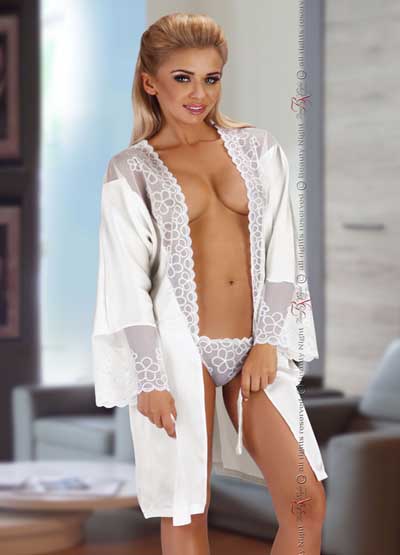 Posted By
0 Comment(s)
680 View(s)
Journal
We are at the heart of the present-giving season right now, so you're probably thinking to yourself that our lingerie gift sets at Zawzor will be selling well – and you would be correct!
However, this time of year is also a chilly one, when many of us are forced to spend more time indoors, and… well, you can probably see where we're going here. More nights curled up on the sofa with your beloved don't have to be spent solely in front of Netflix.
So, what gorgeous lingerie items and accessories do we presently have available in our shopping channel that will help get both of you perfectly 'in the mood'? Below, we have spotlighted just a few of our favourites.
Federica White Dressing Gown and Thong Set
There's nothing like the right dressing gown for showing your sweetheart just a little of what they're missing… but not too much, or at least, not straight away.
This stunning white gown and matching thong pairing represent great value. But much more importantly, with its delicate satin and gorgeous floral lace, it's got the detailing to get everyone's hearts all aflutter.
The short, sleeveless and loose-fitting dress is known as a baby doll – or 'baby doll' – is just for thing for showing off some skin, flattering your figure, and getting you and your lover's heart rate up.
This sheer black skirt offering from the Irall brand is the perfect example of how head-turning our lingerie gift sets can be. The gold satin bust and black satin bow in the centre of the bust line help direct the eyes towards all the right places.
It shouldn't be massively surprising that hold-ups – also sometimes referred to as 'thigh highs' or 'stay ups' – are gaining in popularity among women's lingerie items. They are as gorgeously ornate as a pair of stockings but as easy to use as tights, as they don't require suspenders – instead, they just stay up by themselves.
Where do we start with the extensive selection of hold-ups in our own store? Well, these fabulous black hold-ups from the Ballerina brand could be perfect; they incorporate an elegant pattern across the top of the thigh, and a seamed effect dotted line running down the leg.
It's often the little touches… and sometimes not-so-little ones… that can make all the difference in the bedroom. These laced gloves made from wet-look material – another offering from the Irall brand – are a great case in point. They are ideal for completing all manner of sexy outfits – if, indeed, the wearer bothers with anything else in her outfit.
While we are on the subject of saucy accessories, we can't possibly mention that we also have some fun masks in stock. Like the aforementioned gloves, this mask comes in one size and is likely to act as a complement to your wider look. Why not try it with the Black Corset and Thong set that we also make available from the Provocative brand?
There you go – just five great-priced items from our women's range that will hopefully get you and your lover inspired about how you can warm up those cold winter nights together in the weeks and months to come. Don't forget about the free delivery that we also offer to UK customers, which is just one more reason to turn to us for all of your lingerie gifts sets this season and beyond!