Exceptional Value Afternoon Tea
16 Dec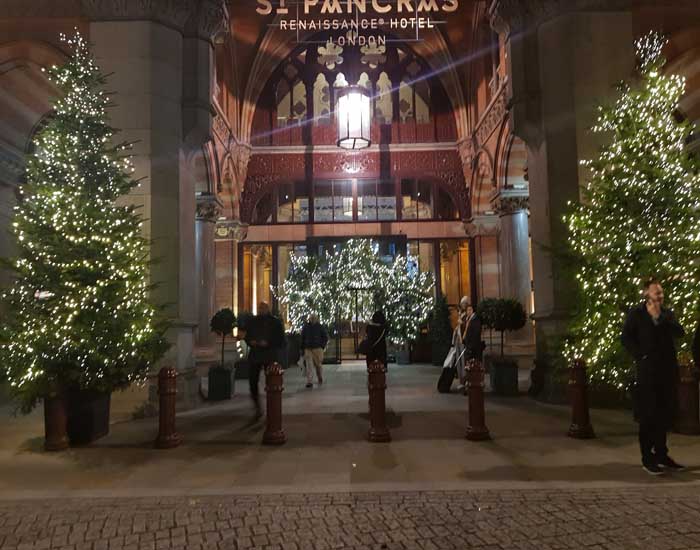 The Hansom, St Pancras Renaissance, Euston Road, London NW1 2AR
Situated on the doorstep of St Pancras this five-star grade 1 listed gothic hotel offers magnificent architecture throughout and immediate access to the Eurostar Service.
Afternoon tea is served in the Hansom restaurant.
Festive Afternoon Tea Menu
Savoury Selection
Egg & Truffle, mayonnaise with chives on spinach bread.
Roast Norfolk Turkey, wild cranberry & thyme compote with watercress on walnut bread.
Chaple & Swan Smoked Salmon, lemon creme fraiche & dill on dark bread.
Cucumber Maldon salt butter & mint on lemon bread.
Crayfish Avocado citrus mayonnaise on brioche.
Sweet
Double Chocolate and mandarin mousse Christmas tree.
White Chocolate and cranberry opera cake.
Freshly baked raisin and plain scones.
Clotted cream and strawberry preserves.
Prices
Classic Afternoon Tea £38.00
Champagne Afternoon Tea £50.00
Opinion
Savouries, Sweets And Scones Scored 10/10
My Favourites
Egg & Truffle mayonnaise - A light mayonnaise with a hint of truffle...delightful
Roast Norfolk Turkey, cranberry & thyme compote - a nice touch to the festive tea.
Sweets
Double Chocolate Fondant Fancy Parcel - A deliciously moist chocolate cake not too sweet...perfect
Strawberry And Coconut Bauble Cake - A pink bauble shaped cake filled with a delicious strawberry mousse, sitting on a biscuit base topped with a marshmallow.
A scrumptious light cake not too sweet...perfect
Definitely an exceptional value afternoon tea with great service!